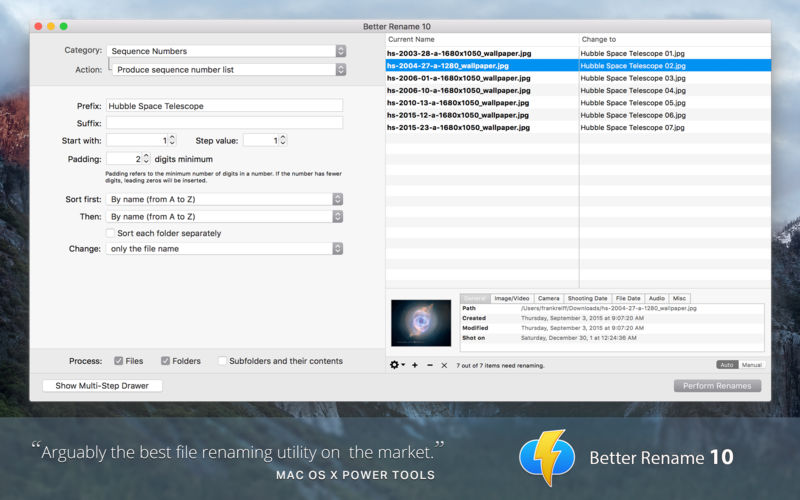 Better Rename 10 is a batch renaming application developed by publicspace.net for Mac computers. It provides a long list of actions to be performed with the selected files, helping Mac users to rename batches of files with high efficiency. This app currently prices $19.99 in App Store. If you are in need, you can wait for the discount which may be offered aperiodically.
When using Mac, most people may lack patience to manage a large amount of files saved in daily life. Those files come from different sources with different names, and to archive all of them you may need to sort them out, rename some of them, and put into different folders one by one. Many users are reluctant to clean up those documents, thinking the job is time-consuming and troublesome. But actually all you need is only a comprehensive batching renaming tool.
Better Rename 10 comes in handy to help you solve this issue, and it is more powerful than the batch renaming feature built in Finder. This tool subdivides all features into 15 sub-menus, each of which has more specific options that support complex renaming tasks. But as most users usually use only some of the sub-items when managing their files, the main interface only displays the current actions, so you will not be confused by the long list of available options.
The tool allows you to change the file name or just the file extension with or without separator. For music lovers and photographers, Better Rename 10 can exploit the meta-data tags embedded in most music files and the EXIF information extracted from digital camera images, to help clean up their collections and portfolios. You can set up multiple rules for renaming files, such as adding time and date information to the file name, adding prefixes or suffixes, creating sequence numbers, and ascending files by Roman numerals or alphabetical order. Multiple renaming steps can be combined and re-ordered to complete complex renaming jobs in a single operation.
To batch rename documents, you just need to drag and drop multiple files directly into Better Rename 10, and then apply the desired actions to complete the transition conveniently.